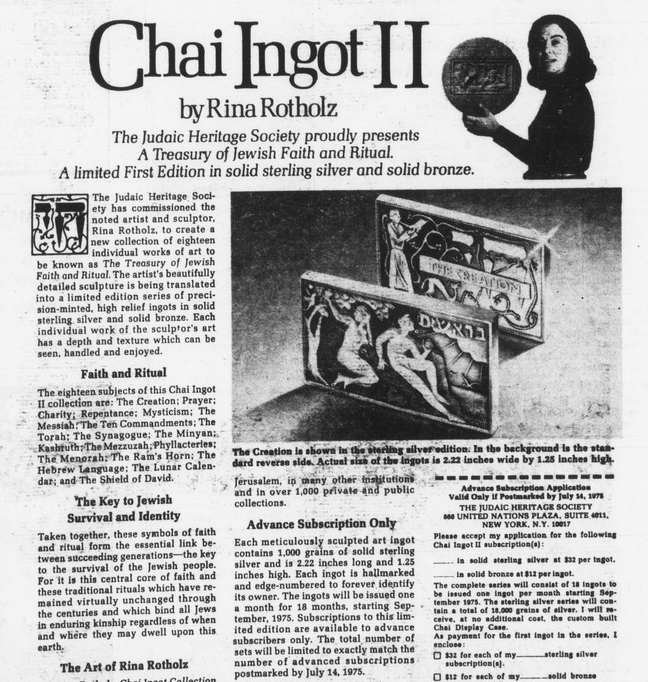 Faith and Ritual
The eighteen subjects of this Chai Ingot !! collection are: The Creation; Prayer; Charity; Repentance; Mysticism: The Messiah: The Ten Commandments; The Torah: The synagogue; The Minyan; Kasbruth; The Mezzuzah; Phyllacteries; The Menorah; The Ram's Horn; The Herbrw Language; The Lunar Calendar; and The Shield of David.
The Key to Jewish Survival and Identity
Taken together, these symbols of faith and ritual form the essential link between succeeding generations- the key to the survival of the Jewish people. For it is this central core of faith and these traditional rituals which have remained virtually unchanged through the centuries and which bind all Jews in enduring kinship regardless of when and where they may dwell upon this earth.
The Art of Rina Rotholz
For Rina Rotholz, Chai Ingot Collection II provides another opportunity for this application of her consummate art and rare insights into the centuries-old traditions and beliefs of the Jewish people. Her work as an artist reflects the deep influence of the archeology and cultural heritage of the Middle East where her family has lived for centuries.
She has exhibited extensively in the United States and abroad. Her powerfully evocative, yet sophisticated work is found in the collections of the Museum of Modern Art in New York, the Boston Museum, the Israel Museum in Jerusalem, in many other institutions and over 1,000 private and public collections.